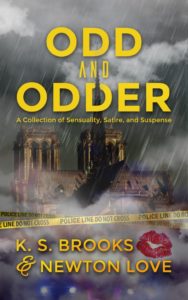 Odd & Odder: A Collection of Sensuality, Satire, & Suspense brings together the creative, off-beat minds of published authors K. S. Brooks and Newton Love. From short stories befitting The Twilight Zone, to lustful verses of poetry, to thought-provoking flash prose: Odd & Odder is consistently fresh, sometimes outlandish, and truly entertaining. A total of 22 original works and two bonus excerpts from the authors' novels are included, providing something for readers of all tastes.
If you are looking for something out of the ordinary that will keep you entertained this is for you." – An Amazon.com reviewer.
Read a book excerpt here.
Available from the following retailers:
Amazon
Amazon UK
Smashwords
Barnes & Noble