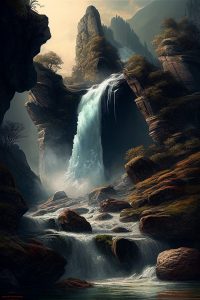 Lost Falls Collaborative was founded in June of 2023 by a small group of filmmakers in northeast Washington State. The mission of LFC, as a nonprofit organization, is three-fold:
To tell the stories of the rural and underserved populations of Washington State;
To bring the experience of being a part of film projects to rural and underserved populations;
And, to offer educational opportunities related to filmmaking to rural and underserved populations.
"Spokane is seeing quite a lot of filmmaking activity," founder K.S. Brooks said, "but many rural communities in northeastern Washington don't have easy access to the city. So we decided to bring filmmaking to them, where they are, so these populations can tell their stories as well as get a taste for what the industry is like."
LFC is applying for 501c3 status, but to date has been self-funded.
"We had to start somewhere, and filming shorts is a great way to give people the opportunity to participate without running into huge budget issues," Brooks said.
Co-founder Jon Yarosko added, "Each short has been a great learning experience. They've helped us hone our methods and have been a lot of fun."
The group's parody of Miley Cyrus's song "Flowers" was selected to open the Pacific Northwest Filmmakers Festival in 2023. Since then, they have filmed a number of other parody videos, with members of rural Stevens County communities as cast and crew.
"All it takes is one shoot, and they get the bug," Brooks explained.
LFC will be producing more music parody videos, promotional videos/advertorials, film shorts, documentaries, and feature films.
Follow LFC on Facebook at facebook.com/LostFallsCollaborative.