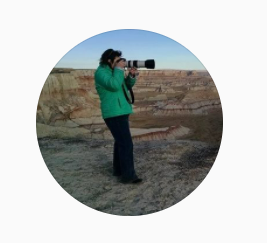 K. S. Brooks coaches all ages of photography enthusiast on how to improve their work. She is an adjunct faculty member for the Community Colleges of Spokane and currently teaches photography workshops for the school. An award-winning photographer, her accolades include recognition from Kodak a number of times from the Kodak International Newspaper Snapshot Award, first place from the Washington State Newspaper Association for a photo essay, acceptance into the Three Rivers Arts Festival, ribbons from a number of local organizations, and more. Ms. Brooks is currently a staff photographer for two different Stevens County newspapers and she freelances for a number of others.
CLASSES
Get Better Pictures – Tips from a Pro – Students will get direction concerning lighting, focus, composition, equipment, terminology, portraits, and more. Cameras including cell phone, point-and-shoot, and DSLR are welcome. This 2.5-hour beginner-level class is for people who want to take better pictures, whether that be of family, travel, products for their business and/or website, etc.
Better Pictures with a Cell Phone – Find out how to capture your best selfies, scenic outdoor shots, portraits, and better group photographs using your smartphone in this 2.5 hour class. Smartphone camera settings and features, basic composition principles, lighting techniques, and more will be covered.
Shooting at Night – Her favorite time to shoot, Ms. Brooks loves sharing her techniques to help others master capturing the magic of the night in pictures. This workshop covers the basics using DSLR cameras.
To book Ms. Brooks for your next conference, event, or class, please contact [email protected].