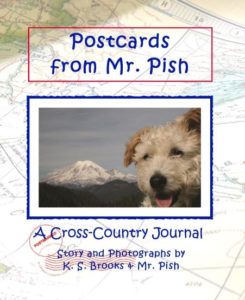 Postcards from Mr. Pish follows the lovable Jack Russell Terrier, Mr. Pish, as he travels from the Atlantic Coast all the way to the Pacific Ocean! He writes about his adventures going across the United States and Canada in postcards from every state and province. From historic fishing villages to city lights to the tops of mountains and beyond, Mr. Pish shares his experiences in a fun and full-color way so children can learn about this great land.
"Postcards from Mr. Pish is a winner because of its successful formula of being both entertaining and educational for audiences young and old."
– Cyrus Webb, Vine Voice Top 1000 Reviewer
Read a book excerpt here.
Get the free companion worksheet here.
Available from the following retailers:
Amazon.com
Amazon UK
Barnes & Noble