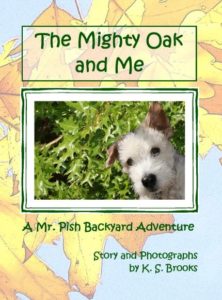 The Mighty Oak and Me is inspired by a real 300-year-old oak tree in novelist K. S. Brooks' back yard. The tree constantly revealed new wildlife and wonders with its age and size. Neighborhood children were in awe of this "Mighty Oak," and when they would come by, Brooks would help them discover the magic of that tree and the value of all trees. With a lifetime of writing and photography experience, and a passion for teaching and the environment, K. S. Brooks celebrates the Mighty Oak and its many lessons in The Mighty Oak and Me.
"This is truly a primer on trees, especially the oak, our national tree. The book is full of lively discussion about the parts of a tree, its propagation, the animals that inhabit it, and seasonal changes."
–Baltimore's Child Magazine
Free companion worksheet available here.
Available from the following retailers (among others):
Amazon.com
Amazon UK
Barnes & Noble