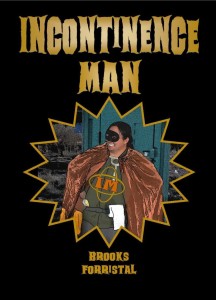 Real people turned into comic book drawings! An aging crime fighter who can't control his intestines! A sexy nurse, a dangerous foe, and a loyal servant. Our hero must fight danger at every turn, and not a bathroom in sight!
Out on the big hill overlooking Gothingham, trouble brews in the bowels of Payne Manor. Luke Payne, a once-effective crime fighter, has become a recluse — a toilet never far away. His trusty servant, Alfreda, makes him an offer he can't refuse: see a doctor about his incontinence issues, and she'll fashion him a new crime-fighting suit out of stylish brown tones to, you know, conceal his shortcomings.
Will Luke go to the doctor? Will he be able to defeat a new arch-rival who's come to town? Will he get his superpowers back? Did he actually ever have any superpowers? Why are we asking so many questions? Some of the answers may or may not be inside this spoof comic book, with images derived from real people in staged scenes.
"Dr Rhoid? – Pure genius." – An ARC reviewer.
Available in eBook and print from Amazon stores worldwide.