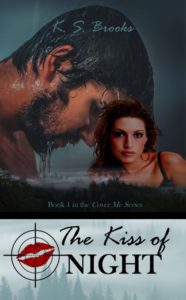 The world's top anti-terrorist agent has a new mission: dealing with being forced into early retirement by a debilitating injury. Former Special Agent Kathrin Night fights the demons of her past, present and future while dealing with her new mysterious Russian bodyguard, Agent Aleksey Khovechkin. Sent compliments of the Russian Minister of Defense, refusing his services is not an option. But is Aleksey's true mission to protect her, or does he have another agenda?
K. S. Brooks, author of the Agent Night Adventure Series, paints a never-before-seen side of her agent in this study of human nature, suspense, and romance.
"Sexy and passionate – but very captivating, capricious and a page turner all the way!" – Bookmonster Reviews
Read a book excerpt here.
Available from the following retailers: